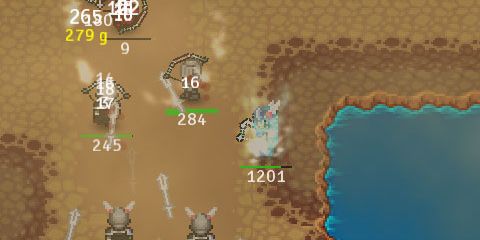 Version 6.6
Posted on
---
Balance changes:
Included most of Balance changes from Copen With The Stress Mod (Thanks Copen With The Stress).
Every hero will now be invincible for 5 seconds upon spawning/respawning. (Thanks Leigh)
Wizards: base HP improved from 30 to 40
The Mesmer:
Gift of Gaben skill bonus improved from 25% to 30% gold discount.
Base HP improved from 85 to 100
Base attack improved from [6, 7] to [8, 9]
Attack gain reduced from [2, 4] to [1, 3]
Added a new Passive Skill: Loki's Pendant (not available for Dark Mesmer)

Grants an extra 5/8/10 seconds of invulnerability upon spawning (improves with EL)
The Arbalest:
Speed gain reduced from 2 to 1.7
The Crimson Archer:
Base attack increased from [11, 15] to [13, 16]
Attack speed reduced from 1s to 0.95s
Range improved from 90 to 100
The Chaos Mage:
Base HP improved from 70 to 90
Circle Burst cooldown improved from 60 to 50
The Dark Mage:
Base attack increased from [5, 8] to [7, 8]
Attack speed reduced from 1.1 to 1.05
Lightless now only reduces healing from fountains by 50% (was 75%)
The Frost Archer:
HP gain reduced from 22 to 16
Attack speed reduced from 0.5 to 0.6
Base speed reduced from 100 to 80
Speed gain reduced from 1.4 to 0.8
Ability base duration improved from 4s to 8s
Ability duration gain reduced from 0.4 to 0.25
Ability cooldown increased to 130 (was 80)
The Phantom:
Base HP reduced from 65 to 60
Hp gain reduced from 10 to 5
Base attack changed from [16, 60] to [18, 30]
Attack gain changed from [1, 7] to [2, 6]
Attack speed improved from 1s to to 0.7s
The Replicant:
Base HP improved from 50 to 60
HP gain increased from 5 to 8
Base attack reduced from [4, 4] to [2, 2]
Attack speed improved from 0.18s to 0.16s
Replica skill cooldown improved from 20s to 16s
Base speed increased from 50 to 56
The Tank:
Spirit Breaker Arrow cooldown increased to 22s (was 13)
Spirit Breaker Arrow weaken times reduced from 7/15/30s to 6/11/17s
Weaken effect will now wear off upon enemy Hero respawn
Healing Fountain II will no longer cure effects such as Burn or Weaken.
The Valkyrie (Rework):
Removed previous skill that was supposed to be removed but wasn't: it granted immunity against mage at EL3.
Removed skill Odin's supply that granted price reduction on warehouses
Base HP reduced from 135 to 100
HP Gain reduced from 18 to 10
Base attack reduced from [13, 15] to [11, 13]
Range reduced from 90 to 85
Base speed improved from 100 to 120
Holy Bow now requires EL2.
Attack speed reduced from 1s to 0.6s
Einherjar Summon:

EL1: now creates 10 EL2 soldiers instead of 20
Divine Archer: attack reduced from [300, 350] to [250, 300] (damage reduction to heroes is still 50%)
Divine Archers now give 30 times more gold upon defeat. (they now give 5 times more gold than a Gold Archer)

Added new Skill: Soul of Heroes.

Everytime an ally defeats a Hero (illusions excluded), an Einherjar will be summoned near your king with the exact same stats.
EL2: summons 2 Einherjars.
EL3: summons 3 Einherjars.

Added a new Skill: Gear of Valhalla

EL2: Gains 250 max HP and unlocks Holy Bow, which reduces attack speed by 0.4s (1s instead of 0.6s), improves range from 85 to 100 and grants an additional +10 attack. Reduces speed by 20.
EL3: Gains an additional 750 max HP, but reduces speed by 25. Unlocks Lightful skill.

Added a new Skill: Lightful (requires EL3)

The Wizard:
HP gain improved from 13 to 15
Blessings:
Added Blessing of the Lotus:
Grants +25% gold
Grants +10% HP gain for heroes
-20% base damage
-20% base speed
Multiplayer
Fixed Kings not attacking
Fixed meta text appearing on player disconnects under certain circumstances
Fixed damage from dead heroes not being applied under certain circumstances (this mostly affects Chaos Mage's spell not working and Arbalest's damages upon death). Non-hero units will still not deal any damage when dead (unlike solo)
Fixed non-Valkyrie host being able to auto attack stealth phantom
Fixed structure repairs not working
Host can now sell default structures
Added a pre-multiplayer screen to change nickname and display data usage warning before actually connecting
Misc:
AI heroes from difficulty 6 will be more aggressive towards player camping inside their base
Valkyrie's sprite will now change when upgrading EL.
Fixed some Mesmer and Helper hair sprite issue when moving south
Fixed Valkyrie and Dark Mage's merchant level particles not being displayed after loading a game
Dark Mage will now start with less particles
Added some small tweaks to lvl 11 bis battle to accomodate Godrik's Active Skill change from previous update.
Desktop version is now resizable
Fixed Godrik AI staying idle a long time and then building everything at once
Fixed Replicant illusions being able to move when created at low HP and then healed (thanks Charlie)
Re-added benchmark mode