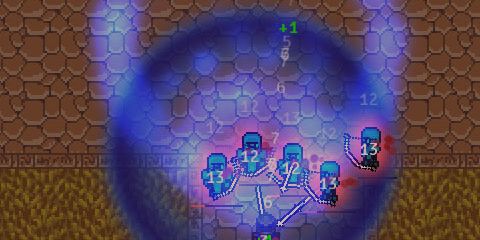 Version 6.4
Posted on
---
Starrows is 5 years old!
Content:
Added a new hero, Kanja The Chaos Mage. (Concept by Leigh W. and Anthony S.)
Chaos Mage is a polyvalent wizard who gets stronger when close to death.
Balance:
Arbalest:
Explosive Arrows will now explode after .6s if they don't reach a target, instead of wasting the skill.
Replicant:
Fixed double XP bug
Slightly reduced range from 130 to 125
Crimson Archer:
HP gain slightly reduced from 17 to 16
Wizard:
Base HP improved from 70 to 85
HP gain reduced from 15 to 13
Range reduced from 135 to 130
Dispersion: rescaled damage reflected from 10/25%/40% to 20%/40%/60%
Dark Mage - Slightly tweaked stats:
Base HP improved from 60 to 66
Range reduced from 135 to 130
Speed reduced from 80 to 76
Valkyrie:
Base attack improved from [11, 13] to [12, 14]
Added a new passive skill "Odin's supply": price of Warehouses is halved.
Frost Archer:
Blizzard of Icewrack:
Duration changed from 7s to 4s
Duration gain improved from 0.2s to 0.4s
Cooldown changed from 75s to 80s
Tank:
Base HP changed from 500 to 400
HP gain changed from 100 to 50
Base Attack changed from [8, 9] to [11, 12]
Attack gain changed from [2, 2] to [2, 3]
Attack speed changed from 1.3s to 1.45s
Structures:
The second Merchant will now be more expensive (from 10000 to 15000 gold)
Fixes/tweaks:
AI allies will now be much stronger on hard difficulties
Volcano 8, tweaked difficulty 10:

AI ally on will now also summon Attackers
Player's king will be at full HP instead of 25

Prevented Active Skill usage when dead
Warehouses are now limited to 5 per teams
Fixed Charm sometimes making the Hero move to the target's location while using the skill
Improved AI heroes behaviour
Camera won't instantly move back to base upon player's death
Fixed some global skills affecting allies, such as Frost Archer's blizzard
Improved Valkyrie's EL particles
Improved newer android version support. Tweaked App Icon to be adaptive and work with rounded shape.
Multiplayer:
Fixed AI having blessings
Attempt at fixing active skills sometimes not working anymore after being used
Version 6.4b: 
Fixed Merchant cost set to 15000 even without buying Merchant under certain conditions.